Remember I told you about surprises this week? Well you get one of them already, because no one likes waiting for surprises...
We have another Sip Guru here to share one of her special drink recipes with you.
In addition to being a wife, mom of four, and an Ironman (!), Tam also heads up
Crafting With the Stars
(an online competition between some of the best crafters out there), has been on TV (!!) lately and has awesome style--love those
boots
!, has great tutorials and
recipes
, and just a couple days ago wrote the best post about bloggers in
real life
.
So now that she's been properly introduced, here she is to share her Homemade Hot Chocolate Mix recipe with you:
My site is full of
tutorials and projects
that are mostly DIY and sewing, but I do venture out in other areas – like paper crafting. Pretty much I just love to create!
I'm thrilled to be here today sharing with you my favorite drink (especially this time of year when the weather turns cooler).
Hot Chocolate
Now some of you may be thinking. Why make your own?
1. This makes A LOT of the mix, and when your family goes through it as fast as mine does – this is much more economical.
2.
You don't have to worry about little packets. You can add as little/much mix as you like so your hot chocolate is just to your liking!
3. This is such a YUMMY recipe!!!
12 cups powdered milk (25.6 oz. box)
2 cups powdered sugar
2 lb. can Nestle Nesquik
1 cup creamer
Generic ingredients work great for everything except the Nesquik.
Mix it all together and you are done!
Now go add it to some hot water in your favorite mug, throw in some marshmallows, and sit down to relax and enjoy!!!
Thanks so much for having me here Tricia and Kristin!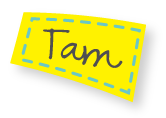 Wouldn't this be such a fun homemade Christmas or winter birthday present for someone? Love it!